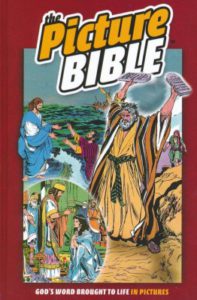 There is nothing like having a little fun while learning, and the Picture Bible provides exactly that. As you read through it, you will learn a lot about many of the exciting stories found in the Bible.
Picture Bible color, action, adventure.
Read what others are saying about the Picture Bible (scroll to the bottom of the linked page for independent reviews).
The Bible is not a Comic Book
You are absolutely right, the Bible is not a comic book, it is the Word of God.
Consider this: the Gospel is not history, is not prophecies, is not miracles, is not parables, and is not visions. Yet, the Creator used every one of those mediums to communicate His message of Salvation to mankind. I would say that He as an author is pretty resourceful in using whatever medium is available to transmit His message.
There was a time (and still exists in some parts of the world) when having possession of a Bible was a punishable offense. There was also a time when it was impossible for someone to read the Bible unless they knew Latin. In our day and age, we have been blessed with the large variety of Bibles available in over 600 languages. It is something for which to thank the Lord that His message can be distributed in so many ways.
If you are looking for a Bible with which to study, or from which to memorize verses, this is not the one for you. But if you are looking for a Bible that will help you navigate through many of the stories found in the Bible in a captivating way, this one will do the trick.
Attractive Medium for Kids (of All Ages)
The original Picture Bible was published in 1978. Read a bit more here.
As with many "new" products, there were plenty of reviews when it hit the bookstores. And the reviews were at both ends of the spectrum, ranging from "blasphemy" to "genius". As time passed, and the novelty faded, the reviews continued to be varied. Over the last 40 years, the Picture Bible has found its way into the hands of thousands, and many can look back to their childhood and remember having a Picture Bible of their own.
I have friends who would never pick up a "regular" Bible to read it, but always had their noses in their Picture Bible. Some of my Sunday School mates would bring their Picture Bible to Sunday School because it was THEIR Bible. And if you ask around, it is not just the kids who like to pick it up and read it, it's the adults too.

The presentation has a real comic book feel to it, and the stories are told in an action packed way. Once you start reading through it, it really is hard to put it down. At the very least, this book summarizes some of the most enticing stories of the Bible in a most enjoyable way.
I often wonder how the Israelite parents would have answered their children when they asked them about the Passover Lamb, or when they asked them about the stones that were left as a witness to the crossing of the Jordan River. Would the parents have answered "matter of fact"? or, Would they have taken the time to describe in great detail the wonders God had done for His people? If you time traveled back and walked through the neighbourhoods, you would probably recognize that some of the children were imitating those events as they played. You would probably be right, if you figured that those kids had received a vivid and action packed account of the Passover night, and of the Jordan river crossing.
My Personal Experience
I can't remember for sure, but I am pretty confident that I read through my Picture Bible before I read through my KJV Bible. I remember reading through the stories and enjoying the graphics that helped bring them to life. Even years later, I would pick it up from my bookshelf and browse through it, captivated by the illustrations.
I don't know where My Picture Bible is now, and I'm not even sure when I lost track of it. But as I remember the hours sprawled out on the floor, or on the couch, or on my bed, reading it, it is a little nostalgic.

Jumping Point
No one would suggest that the Picture Bible should be used as a translation to be read in Church services, nor be used in the public preaching of the Gospel, nor be used as a text in Seminary School. I think if you asked the author and the artist, they would confirm that it was never their intention for the Picture Bible to be used in that way.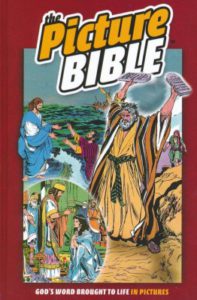 What you will find, is that the Picture Bible has stimulated the interest of many a child towards the Word of God. I think that the author and the artist did well to recognize a trend in society where visual stimulation was being promoted in all aspects of life. A trend that, to this day, has continued, and has stimulated others to try to share the Word of God through plays, videos and action movies.
Many adults have told me that they have read the Bible, but still do not really understand what it is all about. Many adults have also confessed, to never having read the entire Bible, and admit that they are not familiar with many of the Bible stories. Imagine how the Picture Bible could be a help to you if you find yourself in this group. It might just be the spark you need to start reading and enjoying the Bible again.
Action Point: grab a copy
Did you have and a Picture Bible? Please share your experience in the comments below.
Great to use as a GIFT for that special child in your life.
Great to use as an "ITEM of INTEREST" on your coffee table for your visitors.
Great to use as a PRIZE or REWARD in Sunday School or VBS.

Picture Bible Details:
The Picture Bible, Hardcover
By Iva Hoth / David C CookFor years, young and old have delighted in the full-color illustrated presentation of timeless Bible stories. Laid out in a kid-friendly, comic book-style format, The Picture Bible is a perfect first Bible for young readers. Inside they'll find "Did you know?" fact pages, time line, story listing, maps, and more. There are 233 stories with accompanying action pictures that will come alive for hours of family reading enjoyment. Younger children can follow the colorful pictures and storyline without having to read every word. Recommended for ages 8 to 12.Retail: $19.99
Publisher: David C. Cook
Year Published: 1998