If you are too busy to READ the Bible on the go, you might be well served LISTENing to the Bible on the go. Even though reading from a book has its advantages in absorbing and retaining information, hearing also has its own advantages. If you don't have the time to read the Bible, you certainly have time to listen to the Bible. The My iBible Digital Audio Bible Player might just be the device you need to get you going.
Even if you already have a good reading schedule established, you might also consider mixing your reading of the Scripture and your listening to the Scripture. You might be surprised at what you pick up by hearing someone else read the passages. This Digital Bible Player might just be the device you need to keep on going and provide added value to your Bible reading.
My-iBible
Retail Price: $49.95
Lowest Price: ChristianBook.com
Publisher: Hendrickson Publishers
Year: 2015
KJV Hendrickson My-iBible–voice only

Retail Price: $49.95

The package includes:

iBible in the version selected, including both the Old and New Testament
Headphones
A built in speaker
Charge cord with A/C Adapter
Rechargeable long-lasting lithium-ion batteries, with its own charger
User's Guide
This updated device provides increased usability and functionality.
This device does not require a computer to work. It is a self-contained unit with no possibility of accidentally erasing the content.
Using this stand alone device will not drain the battery on your phone allowing you to have the flexibility of listening while not interfering with your daily activities.
You also have the option of using your own headphones or a speaker that uses a standard 3.5mm stereo mini-jack.
Available in several translations
The My-iBible is available in many of the most common Bible translations.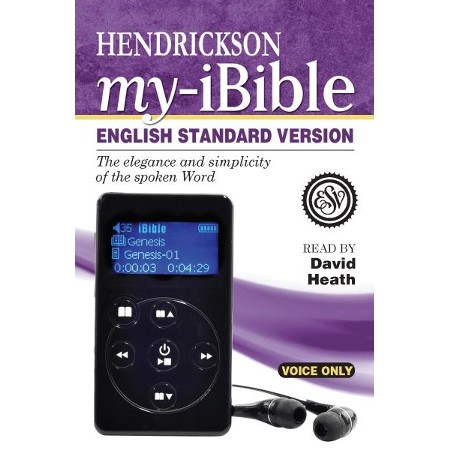 With the variety available to you, you will be able to pick the translation that matches the Bible you normally read. Choosing the translation you normally read can help you with your Bible Reading plan and can also help you with your Bible Verse Memorizing program.

If you are a feeling a little adventuresome, or want to get out of the box, or want a bit of a challenge, you could select a different translation to listen to. Doing so could actually help to stimulate your comprehension of what the Scriptures are saying as you focus on some now "unfamiliar" passages.
Reading Voices
The reading of the Scriptures are completed by the following voices: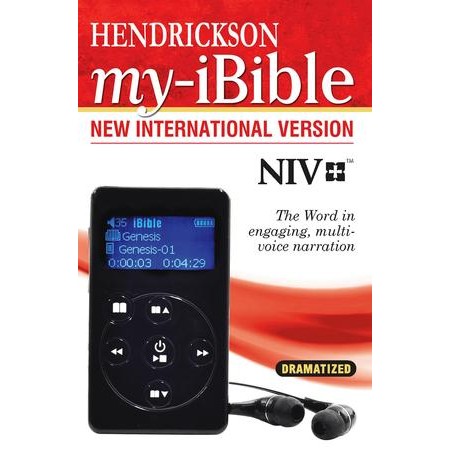 Reviews – What are they saying?

The My-iBible Digital Audio Player is perhaps the technological opportunity to fulfill "So then faith comes by hearing, and hearing by the word of God. But I say, Have they not heard? Yes verily, their sound went into all the earth, and their words unto the ends of the world." Romans 10:17-18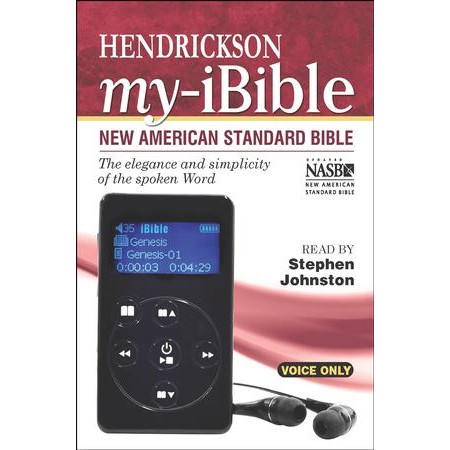 Any method you use, to have the Scriptures enter into your mind, is a good method.
Take advantage of the technological advancements of our generation to have the Word of God enter your heart and your mind, anywhere, and anytime.
Action Point: help get the Word of God into hearts and minds
Reading the Bible on a daily basis is the spiritual food source of a believer. With the busy schedules we keep and the many commitments we have, sometimes reading is difficult. But what about commute times or work out times or waiting in line times? With a small My-iBible in your pocket, these "dead times" could be turned into "alive times" as you listen to the Scriptures while going about your daily business.
If you know of a busy friend who could benefit from listening to the Scriptures being read, why not send them a gift? Help them get into the habit of reading (listening to) the Word of God.
If you know of someone who cannot read the Scriptures, or is no longer able to read the Scriptures, why not send them a gift? You could just make their day by getting them this popular My-iBible Digital Audio Bible Player.
KJV Hendrickson My-iBible–voice only

Retail Price: $49.95

The package includes:

iBible in the version selected, including both the Old and New Testament
Headphones
A built in speaker
Charge cord with A/C Adapter
Rechargeable long-lasting lithium-ion batteries, with its own charger
User's Guide