Welcome to Creator Clues. The Bible is a "big book" and many are overwhelmed by the enormity and complexity of it. The purpose of this website is to help you navigate through the Bible without feeling intimidated while discovering its underlying message of Salvation.
AN UNPLANNED JOURNEY
I first heard the Gospel as a young child when a group of believers traveled to our small town to share the message of Salvation. Though inattentive in many of the meetings and even in Sunday School, I heard enough to make me think.

At 7 1/2 years of age, while playing hockey one wintry Saturday morning, time froze. In that brief moment of time I recognized that things in my life were not right with God. Reality set in that I had lied, disobeyed, stolen and fought. The thoughts passed and I continued playing hockey, but the Spirit of God had done His work in convincing me of sin.
A few months later, as the summer holidays were about to start, I was sitting in yet another Bible study. A verse from Matthew 14 spoke to me; Peter was walking on the water "But when he saw the wind, he was afraid, and beginning to sink he cried out, "Lord, save me."" (v30). My thoughts led me to Peter who was sinking, but unlike him, I was not sinking in water but in my own sin. Later that evening, kneeling by my mother's bed, I said a simple prayer "Lord, save me". And as Jesus had reached out to take Peter's hand and save him from drowning in the water, that night He took my hand and saved me from my sin and its eternal consequences.
As time passed, I came to fully appreciate what had really happened that night. Jesus says in John 10:28 about those who believe: "I give them eternal life, and they will never perish, and no one will snatch them out of my hand."
Some time before, as a boy of 4 or 5, while in "church" I had gazed upon a figure nailed to a cross. I was left imagining what awful things that man would have done to deserve to die in such cruel way. Later, when hearing the story of the Gospel, I came to understand that the man had died for awful things. The awful things He died for were mine, not His. "For Christ also suffered once for sins, the righteous for the unrighteous, that he might bring us to God" 1 Peter 3:18
In High School I was allowed to do a comparative study of the four gospels as an English project. The time spent preparing for the final presentation served as a spark to further study the Scriptures. After finishin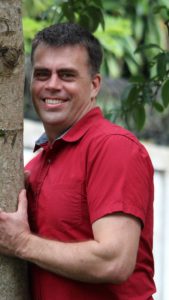 g High School I studied Mechanical Engineering which lay the foundation of study tools and determination I would come to use in my study of Scriptures. After a few years working in Engineering, I became a Professor of Mathematics which catapulted me into the world of teaching (which I had emphatically avoided despite prior opportunities).
I now live in Nicaragua, studying the Scriptures and teaching the Scriptures to children, teenagers and adults. The Lord had the journey planned long ago with all the necessary milestones established along the way. It is definitely not where I had planned on being nor what I had planned on doing, but it is the most amazing work one could wish for in life and for eternity.
PASSING ON THE LIGHT
I am thankful to those who came to my town to share the Word of God in our community. I am thankful to the Lord who sent them to me. "And how are they to preach unless they are sent? As it is written, "How beautiful are the feet of those who preach the good news!"" Romans 10:15. Since the day of my Salvation, I have spent decades studying the Scriptures. At first, I read because it was expected of me, then I studied out of curiosity and now I examine out of appreciation.
I have learned a lot throughout the years both about the Scriptures and about how to study the Scriptures. It can be a daunting task when someone looks at it for the first time. In the hands of an adult it can seem insurmountable, let alone in the eyes of a child. Over the centuries many believers have left us tools and aids to help us in this great endeavor.
The Scriptures can be broken down into manageable parts. Each part containing it 's own message and purpose yet in complete agreement with the message and purpose of the whole. It may be hard to believe but the Scriptures are a message sent to humanity from the hand of its Creator. His Signature is found from beginning to end.
TIMELESS BENEFIT
Studying any topic can be a chore and seem heavy until a spark is lit and interest tweaked. Study can become fun and relaxing and produce a desire to keep going and discover more until there are not enough hours in the day to fully discover the underlying gems that appear as but a sparkle on the surface of the pages of the Scriptures.
There is no way to "fast-track" your study of Scriptures nor your appreciation of Scriptures. I remember as a teenager sitting in Bible Conferences and listening to the preachers go through theme after theme and citing passage after passage and feeling awestruck at their knowledge. It surprises me that today, teenagers are commenting to me that they would like to know what I know (even though I don't feel like I know a lot).
It has literally taken decades of study to gain a greater appreciation for the Word of God, countless hours well spent in the light of eternity. If this website can help someone gain an appreciation for the Scriptures going from acknowledging the Bible as a textbook, to coming to a knowledge of its truth (in salvation), to the experiencing its reality (in life), the website will have served its purpose.
All the best,
Mitchguy
Creator Clues